Pamper your furry royalty with the luxury they deserve! Show your little prince or princess how much you care by providing them with their own private and special place to do their personal business. While dressing them up in cute outfits is fun, creating a dedicated space for their needs is essential for their health and wellbeing. Let your adorable kittens feel like true royalty with the perfect cat furniture and accessories from Michu - because they deserve nothing but the best!
Get them the
Cat Castle Semi Closed Litter Box
 and make them feel like they are the pets of someone with royal blood! Check out these features that will wow even an aristocrat:
PROVIDE YOUR CAT A COVERED TOILET so that they can poop with privacy! It is designed as a covered space so that they will feel like they have their own secret space when they need to do their own thing.
MAKES IT EASY FOR YOU TO CLEAN as you can conveniently pull out the litter box and scoop out your cat litter with ease! It comes with its own compartment that easily captures your cat's poop so that you can clean up after them with less effort.
COMES WITH A SEPARATE CATCH BASIN which catches any stray pebbles or particles that has attached itself on your little friends' fur.
IT ALSO INCLUDES A REST AREA where your lovely pet can lounge around and relax after a long day of playing.
WITH ITS ADORABLE CASTLE-LIKE FIXTURE, your pets would definitely feel like they are wearing a crown on their head! A true king or queen deserves all the love you can give.
Treat your furry friend as special as you can when you get them this beautiful litter box!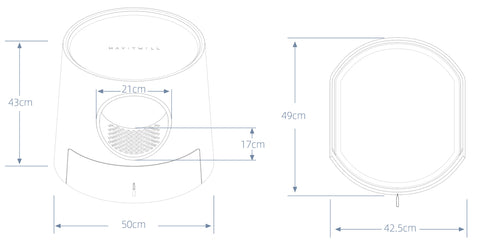 NOTICE:
Cats with vertical urination tendencies are not advised to use this litter box.