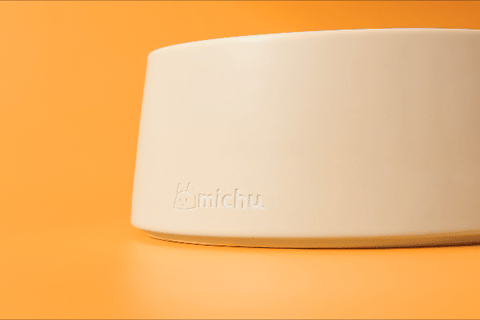 These anti-vomiting, raised bowls promote better digestion by allowing your pet to eat in a natural, comfortable position. The set includes two bowls, one for food and one for water,and one dish, all made of high-quality ceramic that's easy to clean and dishwasher safe. The stylish design will complement any home decor, while the non-skid stripe keeps the bowls in place during mealtime. Give your furry friend the gift of optimal feeding with the Michu Ceramic Cat Bowls.

Versatile Cat Bowl Set

3 pet food and water bowls in a set, hold up 150g food, save the time to add food & water again and again. Dishwasher and microwave safe.
Safe & Healthy Material
Our cat plates are made of premium ceramics fired at high temperatures and 100% food safe glazes, cadmium and lead free, non-toxic and clean sanitation, be helpful for pet health and never worry about harmful substances. They are so sturdy and durable that can be used for years without fragile issues.
Wide Shallow Design
The shallow cat food dish is with diameter of 5.5-inch and height of 1.3-inch. When your lovely kitty is eating, its whole face can be properly placed in the bowl, allows your kittens to get the food easily, which prevents whisker fatigue and keeps it's face neat. And the thick porcelain material makes the kitten bowls not easily tip over.
Full Dinner Cat Bowls
Plenty of room, large capacity works as a full dinner set with food and water. Your pet will definitely love this versatile and decorative ceramic cat bowl.
Ceramics are Healthier
Ceramic cat bowls are healthier and more durable than metal/plastic/stainless steel cat bowls. Prevent pets from getting chin acne.
Several Usages
Cat food and water bowl set can be used to hold dry/wet food/water. It is better than a connected one-piece bowl seat and prevents pets from putting food in the bowl to contaminate the water.
Microwave and Dishwasher Safe
Michu ceramics are resistant to high temperatures and stable. You can put it in the dishwasher and microwave. Michu helps to free your hands.