Michu Freeze-Dried Raw Pet Food Dog & Cat Treat 150g - Made in Australia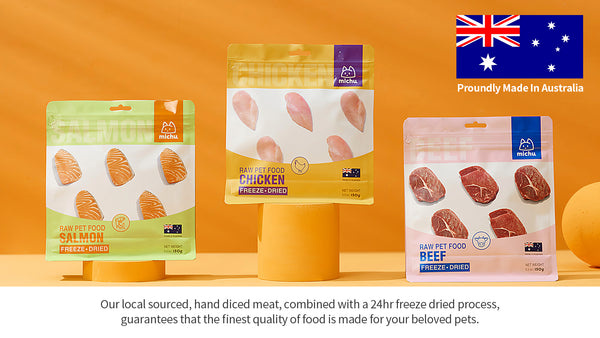 Give your furry friend the ultimate feast with Michu Freeze-Dried Raw Pet Food - made with only the finest ingredients sourced from Tasmania, Australia. Our prey-inspired, ultra-high protein diet is minimally processed and flash-frozen to preserve all the raw nutrients and flavor of the wilderness. Bring home a raw and healthy goodness that your pet will love. Order Michu now!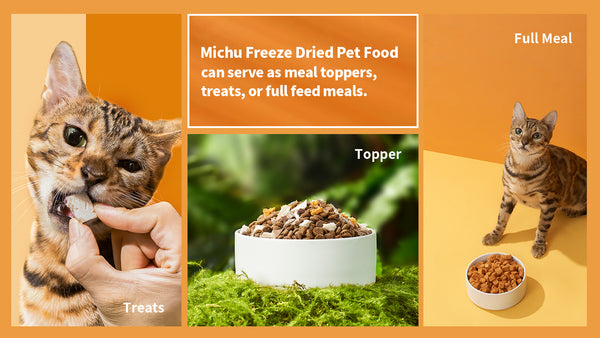 Why Freeze-Dried Food?
Michu Freeze-dried Raw Food offers pet parents a safer, hassle-free option for feeding their pets raw food. So, by giving your cat or dog the same prey-based meal they can taste in the wild, you're helping them thrive and reap the full benefits of their diet.
Unlike kibble, Michu freeze-dried foods are not baked or heat-treated, allowing the protein structures of the food to remain unaltered.
Discover A Wealth Of Benefits For Your Pet:
 Flavors Of The Wild: Dry-frozen pet food keeps the nutrients found in the original ingredients and retains its natural, prey-like flavor that makes it more palatable to your pet.
Premium Raw Food: Michu is proudly made in Tasmania, Australia, with farm-fresh ingredients. We use chicken, salmon and beef raised without antibiotics, steroids or added hormones.
Convenient & Hassle-Free: Michu saves you the daily preparation of meats and organ parts. It's delicious raw nutrition that is shelf stable and ready to serve.
Easy-To-Serve Meals Or Toppings: Michu freeze-dried foods don't need to be refrigerated, which makes them a pantry staple and a healthy addition to your furball regular meal or as delicious toppers.
Eco-Friendly & Resealable: Michu comes in a super convenient package that boasts a resealable zipper for a  long shelf-life and a 100% recyclable and ecological aluminum container.
Bursting With Health Benefits: Michu Freeze-dried Food is packed with the protein and fat your pal requires to look and feel its best. Resulting in a shinier coat, healthier skin, and smaller stools.
Feeding Guide: