Give your feline friend the gift of clean, fresh water with the Michu Wireless Cat Water Fountain. This innovative and modern fountain offers a battery-operated and automatic solution for promoting healthy hydration, so you can rest assured that your cat always has access to clean and refreshing water. With USB charging and a sleek design, this fountain is perfect for busy pet owners who want to provide their cats with a convenient and stylish solution for their drinking needs.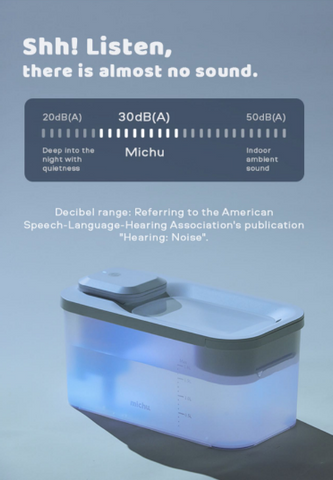 EASIER—Cordless & Rechargeable Battery Operated
It is total no need to plug in, shake off the electrical trouble. Michu cat water fountain has a high-capacity battery and the battery can be recharged, suitable for cordless multi-scene use. Never worry about cat run out of water during power-outage or short-trip.

SMARTER—Designed To Entice Their Natural Instinct To Drink
Michu automatic cat water fountain induction water outlet automaticly. The cat water dispenser will release 20 seconds water automatically every 30 minute. Sound of moving water will attach cats' interest, It effectively addresses cat don't like drinking water. You can also press the button to release water at anytime.

SAFER—Eliminate Electric Shock By Leaking
Michu pet water fountain uses the same water pump as human's coffee machine, so that can truly achieve separation between water and electricity, let your pet drink safe water where and anytime. Also, water and electricity separation make easy to clean drinking water tray and water storage bucket. Checking remaining water by transparent water tray easily, fill water in advance to avoid pet dehydration.

HEALTHIER—6 Layers Circulating Filtration System
Pet water dispenser not just self-circulation to keep water clean, but fitted with a filter. It is made of Eco-Friendly Shell, KDF, Ion Exchange Resin, Quartz Sand, Coconut Activated Charcoal and Cotton. 6x Superior filtering system provides cleaner and healthier water to cats. We recommend that replacing the filter and filter sponge every 3-4 weeks.

RUNS ULTRA QUIETLY & EXTRA LONG DURATION
Low-decibel silent design, It makes barely any noise. Charge once, use time up to about 45 days. The lithium battery sets up a protection plate when the detection of safety problems will automatically power off.
Specification:
Brand: Michu
Weight:0.8KG
Product Size: 24.5*13.5*13.5cm
Capacity: MAX 1.8 L
Material: Dispenser cover-ABS, Tank-Polypropylene
What's in the package? 
Fountain*1, Filter*1, Manual*1, USB cable*1
Last 45 days per charge.
We recommend changing the filter once a month
Change Water Every 3-4 Days